COMMERCIAL AND MILITARY AERONAUTICAL INSPECTION KITS
EFER ENDOSCOPY provides a wide range of tools designed for remote visual inspection of both aircraft and helicopter engines, and which can additionally be applicable to aeroderivative gas turbines.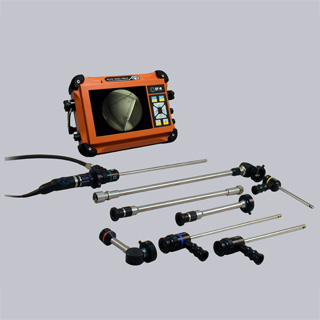 • EFER ENDOSCOPY also develops specific aeronautical products such as Periscopes allowing rapid inspections via air intake duct, or rigid videoendoscopic probes dedicated to specific engines and having functions such as orbital scanning, viewing angle variation and measurement by integrated graticule.
• Based on standard endoscopic and videoendoscopic probes having opto-mechanical characteristics adapted to the engine section, these inspection tools can be used in association with rigid and flexible, possibly articulated, guide tubes which enable insertion and positionning of these tools.