ENDOSCOPIC FLUORESCENT PENETRANT INSPECTION SYSTEM
Developed in partnership with the french aero-engine manufacturer, SNECMA (SAFRAN GROUP), this globally patented system provides the capability to endoscopically inspect on-wing engines using the FPI process.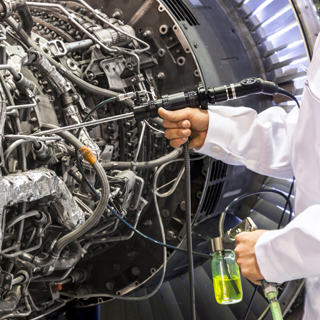 The system allows to resolve doubts arising during routine endoscopic inspections posed by suspicious indications. It is also commonly used to guarantee the absence of residual cracks after blade-blending.
In the first operation phase, carried out under white light endoscopy, the various chemicals required for FPI are projected on the area of interest.
This phase is followed by endoscopic inspection under UV light of the FPI-processed area.
For more information on the Endoscopic FPI system, a video presentation is available on EFER Endoscopy YouTube channel. 
The endoscopic FPI system developed by EFER ENDOSCOPY typically comprises the following items:
• FPI chemicals case
• A range of rigid endoscopic tools typically used for inspecting low pressure turbine and high pressure compressor stages
• A range of flexible endoscopic tools better suited for inspecting the low pressure compressor stages
• VEGA 900 UV ultra-violet/white light source
• MUCAM T900 camera
• TIVE 900 MK2 visualisation and recording unit
FPI CHEMICALS CASE
The case comprises five jars containing the various materials necessary for an FPI process, and implements an air compressor (or alternatively a compressed air input) which serves to both pressurise the jars and deliver compressed air to the endoscopic tool. Each jar has its own spray gun allowing to inject its chemical into a capillary tube inserted in the tool.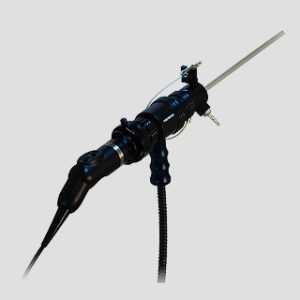 RIGID FPI TOOL
Tubular tool made up of a first internal tube which receives a capillary tube, a second tube for an endoscope, and a third one for delivering compressed air on the endoscope distal lens. This tool has an articulated distal tip, controlled by rotating ring on handle, to position the capillary tube near the inspection zone.
The tool works with its associated UV endoscope which is connected to both a VEGA 900 UV light source by liquid light cable, and MUCAM T900 camera with TIVE 900 MK2 operating unit.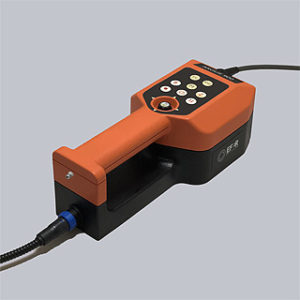 FLEXIBLE FPI TOOL
ARGUS UV 900 K probe of 6 or 8 mm diameter with axial vision and UV illumination, having an internal channel whose proximal gate receives both a capillary tube and compressed air serving to clean the probe distal lens. This probe has an integrated umbilical cable which connects to a VEGA 900 UV light source and a TIVE 900 MK2 operating unit.