ENDOSCOPIC BLENDING SYSTEM
ENDOSCOPIC BLENDING SYSTEM
Developed in partnership with the french aero-engine manufacturer, SNECMA (SAFRAN GROUP), this system allows on-wing grinding, filing or blending of cracks identified endoscopically on engine blades.
One of the main sources of incidents in aircraft engines, damage by ingestion of foreign bodies, is generally found on blade leading edges of compressor stages, typically in the form of impacts.
Investigation of these defects, possibly involving measurement, is carried out using an ARGUS 900 probe associated to a TIVE 900 MK2 operating unit.
Depending on the number and dimension of these impacts, engine removal for subsequent blade replacement in shop may be necessary. Alternatively, the significantly more economical solution of filing or grinding these defects with the engine remaining on-wing, commonly known as "Blending", is available.
The endoscopic blending system designed by EFER comprises the following devices:
• ENDOGRINDER endoscopic tool
• A specific optical endoscope coupled with a MUCAM T900 endoscopic camera
• A EVS 900 MK2 video-light operating unit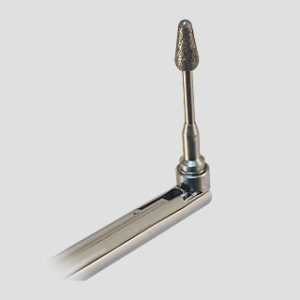 ENDOGRINDER ENDOSCOPIC TOOL
The tool comprises:
• A proximal handle with various operational controls and which houses the motor
• A cylindrical tube which houses videoendoscopic probe, distal tip articulation connecting rods, and drive belt linking motor to distal tip pulleys
• An articulating distal tip which receives interchangeable grinding, brushing and polishing tools
The handle has the following:
• Gate through which the tool-specific video probe is inserted then fastened
• 12 V power input
• ON / OFF switch
• Distal tip articulation control
• Drive belt tension control
• Torque variation control
• Distal tool speed variation control
• Distal tip articulation indicator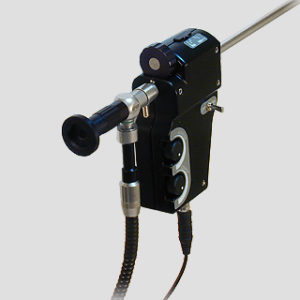 RIGID VIDEO PROBE
• Optical (field and direction of view) and mechanical (diameter, length) characteristics: specific to the grinding tool
• Compact proximal handle with lock and 2-button keypad to control FREEZE and RECORD functions of the EVS 900 MK2 unit associated to probe
• Integral video-light cable connectable to the EVS 900 MK2 unit