Telescopic audio-video probe designed to search for victims buried in ruins following natural disasters or armed conflicts.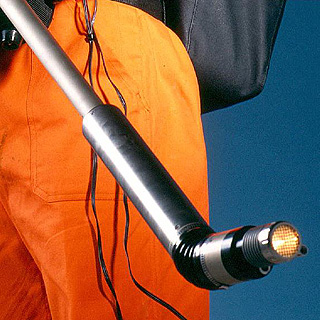 Complying with the Swiss Army requirements, this equipment allows both to visually locate and communicate by audio with buried victims located up to 6 meters distance.
The structure of this equipment results from the combination of a telescopic audio-video probe, an operating unit and an auxiliary screen (optional).
AUDIO-VIDEO PROBE
• Articulating distal head implementing powerful lighting, a MUCAM-type camera and a microphone-speaker unit allowing surviving victims to communicate with the probe operator
• Central section consisting of a telescopic carbon tube allowing 1 to 3 meters adjustable probe length
• Proximal control handle allowing operator to adjust distal light intensity, vary the angulation of distal articulation, and activate the image recorder of the operating unit.
• Interface for connecting audio headset, operating unit and auxiliary screen
OPERATING UNIT
• 6.4″ VGA screen
• Real time zoom
• Image and audio-video recording
• Remote setup of the distal camera
• DVR function management
• Multilingual operation
• Composite video output
• Integrated rechargeable battery